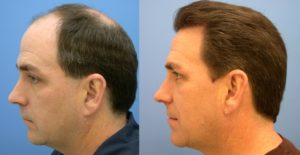 The surgeries the doctors perform are many and varied, including tummy tucks, butt lifts, breast enhancements, liposuctions and rhinoplasty — you mention it, they've done it, making things smaller and bigger, left, right and centre, in order to make the world a little bit prettier.
Here are the top ten most commonly performed cosmetic surgical procedures in the world. We bet you can't name all ten…
Hair transplant
Yeah – we wouldn't have classed this as surgery either, but apparently, men around the world reclaiming their youth with follicular rejuvenation qualifies as a surgical procedure. Ageing gracefully is a thing of the past, and so is the glorious radiance of sunlight off a bald dome. RIP.
Eyelid surgery
Eyelid surgery is minimally invasive, tightening up loose skin around the lids and bottom of the eyes. Many celebrities take this as an option over face lifts, because of how easily it makes the subject look younger.
Rhinoplasty
Ah, noses. Not many people like their own, do they? It's no wonder why this procedure is among the 10 most popular plastic surgeries. Rhinoplasty surgeon Dr Alan Evans along with other qualified plastic surgeons around the world perform this procedure regularly.
Breast reduction
Some people long for big breasts; others long for them to be gone. The grass is always greener, and your best friend's breasts are always nicer. This surgery involves the removal of a breast gland and some skin, with the breast resized and reshaped. Many women undergo this surgery because of health reasons such as shoulder pain and ulcers under the breasts.
Male breast surgery
Gynaecomastia is a condition where males see an increase in the size of their breasts, often leading to emotional upset and embarrassment. The causes are various, including puberty, hormones and alcoholism — and this procedure …
» Read more