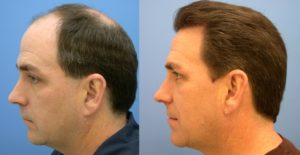 The surgeries the doctors perform are many and varied, including tummy tucks, butt lifts, breast enhancements, liposuctions and rhinoplasty — you mention it, they've done it, making things smaller and bigger, left, right and centre, in order to make the world a little bit prettier.
Here are the top ten most commonly performed cosmetic surgical procedures in the world. We bet you can't name all ten…
Hair transplant
Yeah – we wouldn't have classed this as surgery either, but apparently, men around the world reclaiming their youth with follicular rejuvenation qualifies as a surgical procedure. Ageing gracefully is a thing of the past, and so is the glorious radiance of sunlight off a bald dome. RIP.
Eyelid surgery
Eyelid surgery is minimally invasive, tightening up loose skin around the lids and bottom of the eyes. Many celebrities take this as an option over face lifts, because of how easily it makes the subject look younger.
Rhinoplasty
Ah, noses. Not many people like their own, do they? It's no wonder why this procedure is among the 10 most popular plastic surgeries. Rhinoplasty surgeon Dr Alan Evans along with other qualified plastic surgeons around the world perform this procedure regularly.
Breast reduction
Some people long for big breasts; others long for them to be gone. The grass is always greener, and your best friend's breasts are always nicer. This surgery involves the removal of a breast gland and some skin, with the breast resized and reshaped. Many women undergo this surgery because of health reasons such as shoulder pain and ulcers under the breasts.
Male breast surgery
Gynaecomastia is a condition where males see an increase in the size of their breasts, often leading to emotional upset and embarrassment. The causes are various, including puberty, hormones and alcoholism — and this procedure is now so routinely done that the scars heal to be almost non-existent. Men. They have all the luck.
Breast enhancement
Androgyny might be in, but the lure of the full perky breasts has never quite gone out of style. The boob job sneaks in at number five, helping women around the world look like their weight-loss has reduced the size of their stomach and thighs but, magically, not their breasts.
Face lift
We all get old. It's a fact. There is nothing that slows the march of time, and nothing to prevent the skin on our faces making bids to slide south — which is why face and neck surgeries have become a common resort in Western cultures. Largely performed on women over the age of 45, this procedure tightens loose skin and makes the subject look younger, shinier, and more like their own children.
Scar revision
Often a fairly minor procedure, this uses skin from other parts of the body to reduce the appearance of scars sustained through cuts or burns or any other of the numerous ways we can ruin our good looks. While it might seem odd to utilise a knife to reduce a scar, they can be made thinner and less prominent.
Tummy tuck
Largely performed on women who have squeezed a baby out of their body, and found that the resulting body shape isn't quite to their liking, abdominoplasty deals to the saggy skin and flesh around the belly. We suspect the reason this one is so far up the list is because the nickname makes it sound like nothing more stressful than tucking a shirt into a pair of jeans.
Liposuction
You're probably not surprised to see this coming in at number one, given that we live in a world where we both eat too much AND are completely obsessed with our weight. It's quite the dilemma, and liposuction is the solution — so enjoy that cheeseburger. Have another. The suction is ready…